3 months ago
240. Top 10 Most Popular Episodes of 2020 of the Pharmacy, IT, & Me Podcast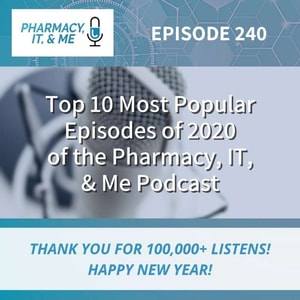 240. Top 10 Most Popular Episodes of 2020 of the Pharmacy, IT, & Me Podcast
Intended Audience: Everyone
On today's first episode of 2021, we recap the top 10 most popular episodes of our podcast from 2020.
List:
Biomedical Informatics, Pharmacogenomics, & Academia
Becoming a Director of Pharmacy Support Services
From Medication Systems and Operations to Pharmacy Informatics Manager
What are Core Informatics Competencies
Why Master's in Healthcare Informatics?
The Difficult Reality of Pharmacy Informatics
A Journey of IT to Pharmacy to Clinical Informatics
Automation in Operational Safety and Efficiency: An Executive's Perspective
Data Analytics in Highlighting Pharmacist Value and Patient Care
Consulting Services from a Community and Pharmacy IT Background


Interested in learning more about pharmacy informatics? Check out the FREE Introduction to Pharmacy Informatics course at www.pharmacyinformaticsacademy.com !
New to LinkedIn and not sure where to start? Download my free ebook, "Professional Networking Unlocked", at https://www.tonydaopharmd.com/ebook
Follow us on social media!
Twitter: @pharmacyitme
Instagram: @pharmacyinformatics
LinkedIn: https://www.linkedin.com/company/pharmacyitme/
Website: Pharmacy IT & Me
Email: [email protected]
Follow Tony's personal Twitter account at @tonydaopharmd

Network with other pharmacists at Pharmacists Connect!
http://pharmacistsconnect.com

For more information on pharmacy informatics, check out some of the following useful links:

ASHP's Section of Pharmacy Informatics and Technology: https://www.ashp.org/Pharmacy-Informaticist/Section-of-Pharmacy-Informatics-and-Technology/
HIMSS Pharmacy Informatics Community: https://www.himss.org/library/pharmacy-informatics

Disclaimer: Views expressed are my own and do not reflect thoughts and opinions of any entity with which I have been, am now, or will be affiliated.
This podcast is powered by Pinecast.