2 months ago
232. What is DoseID? Featuring Kit Check CEO Kevin MacDonald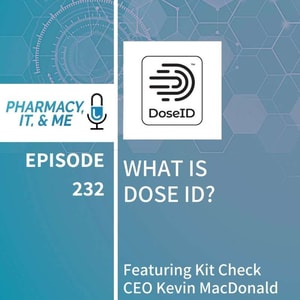 232. What is DoseID? Featuring Kit Check CEO Kevin MacDonald
Intended Audience: Currently Practicing Informatics Pharmacists
DoseID is a recently announced consortium made up of industry leaders and hospital systems with the goal of interoperability and tracking in the pharmacy supply chain world. Today, we had an opportunity to speak once again with Kit Check CEO Kevin MacDonald, as he shares the role that Kit Check plays in DoseID and the purpose and goals of the consortium.
Topics include:
Benefits of DoseID for hospitals, industry leaders, and more
The standardization process of RFID tags
The importance of interoperability
How to join DoseID and find more information
To find out more about DoseID, visit the website at www.doseid.com
---
Interested in learning more about pharmacy informatics? Check out the FREE Introduction to Pharmacy Informatics course at www.pharmacyinformaticsacademy.com !
New to LinkedIn and not sure where to start? Download my free ebook, "Professional Networking Unlocked", at https://www.tonydaopharmd.com/ebook
Follow us on social media!
Twitter: @pharmacyitme
Instagram: @pharmacyinformatics
LinkedIn: https://www.linkedin.com/company/pharmacyitme/
Website: Pharmacy IT & Me
Email: [email protected]
Follow Tony's personal Twitter account at @tonydaopharmd

Network with other pharmacists at Pharmacists Connect!
http://pharmacistsconnect.com

For more information on pharmacy informatics, check out some of the following useful links:

ASHP's Section of Pharmacy Informatics and Technology: https://www.ashp.org/Pharmacy-Informaticist/Section-of-Pharmacy-Informatics-and-Technology/
HIMSS Pharmacy Informatics Community: https://www.himss.org/library/pharmacy-informatics

Disclaimer: Views expressed are my own and do not reflect thoughts and opinions of any entity with which I have been, am now, or will be affiliated.
This podcast is powered by Pinecast.